The Village of New Knoxville
Nestled in southern Auglaize County, New Knoxville is located at the intersection of State Routes 29 & 219, and is just minutes from Interstate 75. These highways allow one to travel to/from Chicago, Illinois; Frankfort, Kentucky; Charleston, West Virginia; or Erie, Pennsylvania in less than 5 hours. Whether traveling by car or air, our community is easily accessible. Dayton International Airport is within an hour drive, while Port Columbus International Airport, Toledo Express Airport, and Ft. Wayne International Airport can all be reached in less than 2 hours.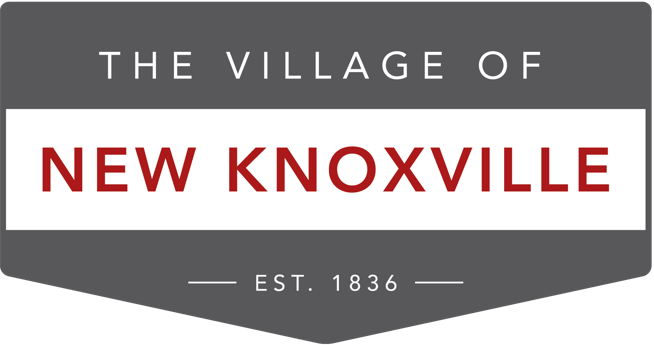 Just outside the village is The Auglaize County Neil Armstrong Airport which is an important part of our community. It is located adjacent to the Village of New Knoxville's Industrial Park, and can accommodate all general aviation aircraft, and provide a link for travelers and goods coming into our community from around the world. The airport's 5,650' runway is suitable for all kinds of aircraft including corporate jets. The airport is named after Neil Armstrong, the first man on the moon, who grew up in nearby Wapakoneta, Ohio.
As in many small towns, our local school is the heart of the community, and one we take great pride in. New Knoxville Schools are rated "excellent" by the Ohio Department of Education, with attendance and graduation rates above 98%. The community's commitment to the school is reflected in its renovations and upkeep.
For those wishing to gain additional training or obtain a degree, the following universities/colleges are easily attainable:: Wright State Lake Campus (20 min.), OSU – Lima (36 min.), Rhodes State College (37 min.), University of Northwestern Ohio (39 min.), University of Dayton (1 hr. 6 min.), University of Findlay (1 hr. 6 min.), Wright State – Main Campus (1 hr. 12 min.), or Ohio State – Main Campus (1 hr. 39 min.)
Several industries have found great success in our community. They include:
Crown, headquartered in nearby New Bremen, located its motor plant facility in New Knoxville in 1983. This facility is where AC and DC motors are made for Crown lift trucks.
NKTelco, a 100-year-old local exchange carrier, now provides cutting-edge communications technologies to New Knoxville and surrounding communities. Their continuing investment in their fiber optic network and other technologies provides top-of-the-line data service to businesses and residents alike.
Hoge Lumber Company (Millworks Division, Hoge Commercial Buildings, New Homes and Remodeling, Historical Products, and the Hoge Brush Company) who originated in New Knoxville in 1904. They are an international business offering a range of services including bowling alleys, sports floors, architectural millwork, and outbuildings.
New Knoxville Supply Company, a heating, cooling, and electrical specialist company, has been a part of our community since 1931. They focus on servicing the residential market, as well as industrial and commercial sectors, with quality HVAC and electrical work.
We're sure you would find success here as well. Commercial and industrial sites are available. The Village of New Knoxville Industrial Park is state of the art and was created with 33 acres available for business development.
Our village reflects our strong German heritage – in our architecture, community spirit, and work ethic. These qualities, combined with our reliable, highly competitive rates for electric, water, and sewer services can save substantial dollars. We even have a diesel powered electric peaking generator to help avoid excessive electricity charges.
The Village of New Knoxville exists to create a safe and healthy community where individuals can reside, enjoy leisure activities, engage in commerce, and find employment. Come visit us! We think you will find our warm community spirit and big heart a pleasant experience. Just give us a call and we'll be happy to show you around.